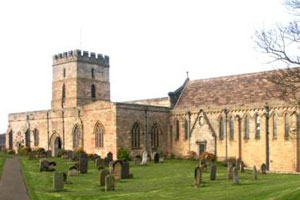 Zoom evening prayer is held on Wednesday evenings at 7pm. Please contact Revd Louise for the link.
About the church
A place of worship was founded on this site of the present church in 635 by Saint Aidan. St Aidan was called to Bamburgh from Iona by King Oswald to establish Christianity in his newly united kingdom of Northumbria.
No trace of that wooden building can be now be seen - other than perhaps a beam in the Baptistery. Tradition has it that thsi is the beam that St Aidan was leaning against when he died and it is said to have miraculously survived two fires.
The site of St Aidan's death is marked by a simple shrine within the present church. The church building that is now seen dates from the end of the 12th century.
This parish church has been a focus of pilgrimage over the centuries and modern day visitors and pilgrims are very welcome.
St Aidan's is open from 10am - 4pm every day.
Regular Services
Sundays - Eucharist 11.00 am
Tuesdays - Holy Communion 10.00 am
For details of these and other variations see notices inside the church
https://www.achurchnearyou.com/church/16301/
Contact
Bellringing
St Aidan's Church has a fine peal of 8 bells Practice night is Tuesday 7.00 – 8.30 pm Beginners & Visiting Ringers are always welcome Bell Tower Contact Andrew Bardgett: 01668 214164
Nearby churches
Methodist Church, Seahouses
1st Sunday - 9.30 am
Other Sundays - 10.45 am
St. Aidan's RC Church, 18 King Street, Seahouses NE68 7XP
Telephone 01665 720427
Services
Every Sunday and Holy Days - Mass 11.00am
Easter to end of September. Vigil Mass Saturday - 12.00 midday
Sunday Mass - 11.00am
Weekdays - 10.00am