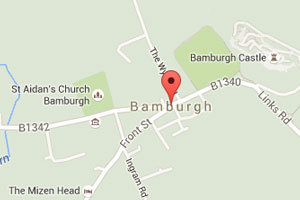 Where is Bamburgh?
Bamburgh is set in beautiful Northumberland countryside, approximately midway between Berwick upon Tweed and Alnwick (and some sixteen miles from both).
It is 39 miles from the nearest airport (Newcastle) and 4.4 miles from the nearest railway station (Chathill). For InterCity services, residents must first travel to Alnmouth or Berwick upon Tweed.
DIRECTIONS
BY CAR Travelling northbound on the A1 turn off at Adderstone services and follow the B1341 Bamburgh is about 5 miles or you can take the B1342 if travelling southbound. Alternatively the B1340 coastal road that takes you on a more Leisurely route directly into Bamburgh.
BY AIR The nearest airport is at Newcastle call 08718821121 or www.newcastleairport.com
Getting here by Bus
Bamburgh is very well served by local buses. During the summer there is an hourly daytime service in each direction and a two-hourly service on winter days. We recommend using Traveline https://travelinenortheast.info/plan-a-journey/ to plan your journey.
Two buses serve Bamburgh, alternating to provide an hourly summer service;
Arriva X18 Newcastle - Morpeth - Amble - Alnwick - Seahouses - BAMBURGH - Belford - Berwick-upon-Tweed
Travelsure 418 Alnwick - Seahouses - BAMBURGH - Belford (connects with X15 from Berwick in Belford and southbound X15 and X18 in Alnwick)
Arriving from Berwick and the north
Catch the Arriva X18 from Berwick direct to Bamburgh or
Catch the Arriva X15 (for Newcastle) and change at Belford onto the 418
Arriving from Newcastle, Alnwick and the south
From Newcastle Haymarket Bus Station catch the Arriva X15 and change at Alnwick onto a northbound X18/418 or change at Belford onto southbound X18/418
Arriving from the coast
From the coastal villages of Alnmouth (X18 only) Craster, Newton (418 only), Beadnell and Seahouses catch either a X18 or 418 bus to Bamburgh
Getting to Holy Island
Holy Island is served by the Perryman's 477 service. From Bamburgh, passengers must catch the Arriva X18 and change at Beal Filling Station. Because the causeway to Holy Island is tidal, the timetable changes virtually daily. Perrymans operate the 477 service between Berwick-upon-Tweed and Holy Island. Outside of the summer season this bus only operates on Wednesdays and Saturdays. During summer and Easter school holidays there is a twice-a-day Monday to Saturday service.
Travelling around by bus
There is excellent information about travelling around the Northumberland Coast by bus on the Northumberland Coast AONB website (http://www.northumberlandcoastaonb.org/getting-around/) including a route map and advice on ticketing and discounts
By Train
Chathill is the nearest station to Bamburgh but is only served by a very early morning train and and late evening train. Most rail passengers will need to alight at Berwick or Alnmouth.
We recommend using Trainline https://www.thetrainline.com/
LNER from London, Peterborough, Doncaster, York, Newcastle and Scotland call at both Alnmouth and Berwick-upon-Tweed.
CrossCountry trains from South West England, the Midlands and Scotland also call at both Alnmouth and Berwick-upon-Tweed.
Passengers arriving into Berwick should catch the direct Arriva X18 to Bamburgh
Passengers arriving into Alnmouth must catch the Arriva X20 into Alnwick and change for a northbound X18 or X15 (change at Belford onto a southbound X18/418)
By Ferry
DFDS Ferries connect the North of England at Port of Tyne to Amsterdam (IJmuiden) in Holland.
To travel from Port of Tyne to Bamburgh without a car, passengers should use the DFDS shuttle-bus service to Newcastle Central Station and then use either the train or Arriva Coast and Castles Connection X18/X15 services to get to Bamburgh