HAVING A PARTY or SPECIAL CELEBRATION / EVENT?
Have you thought of using Bamburgh Village hall - THE PAVILION – as a venue.
We can offer a large hall area with serving hatch into kitchen. Ladies and gents cloakrooms. A large car parking area. During day light hours a fantastic view of the castle A well lit path to the hall from the main road at night. To book go to https://hallbookingonline.com/bamburgh or for further information please email: bamburghpavilion1@gmail.com
See pictures of Bamburgh Pavilion as a wedding venue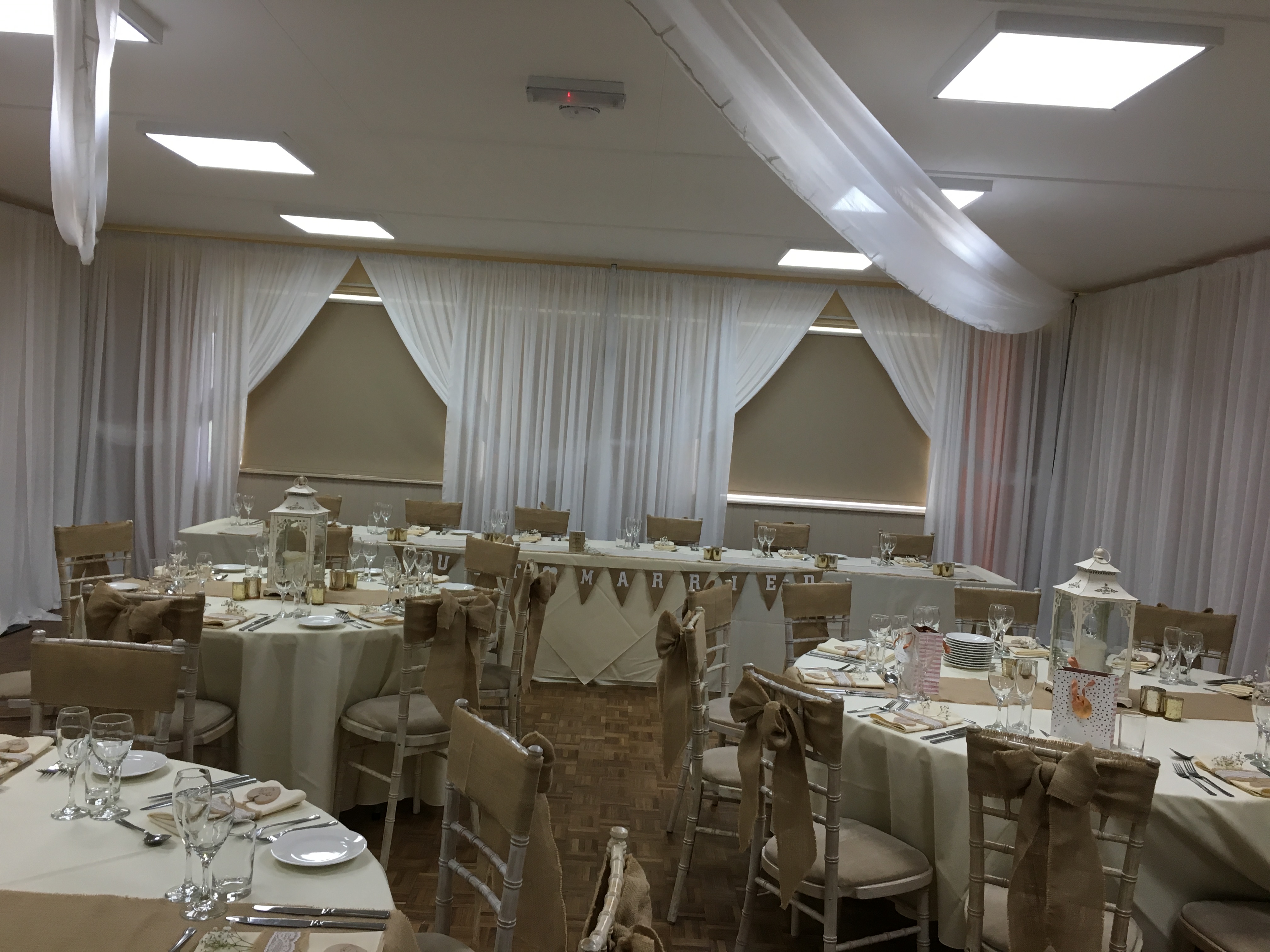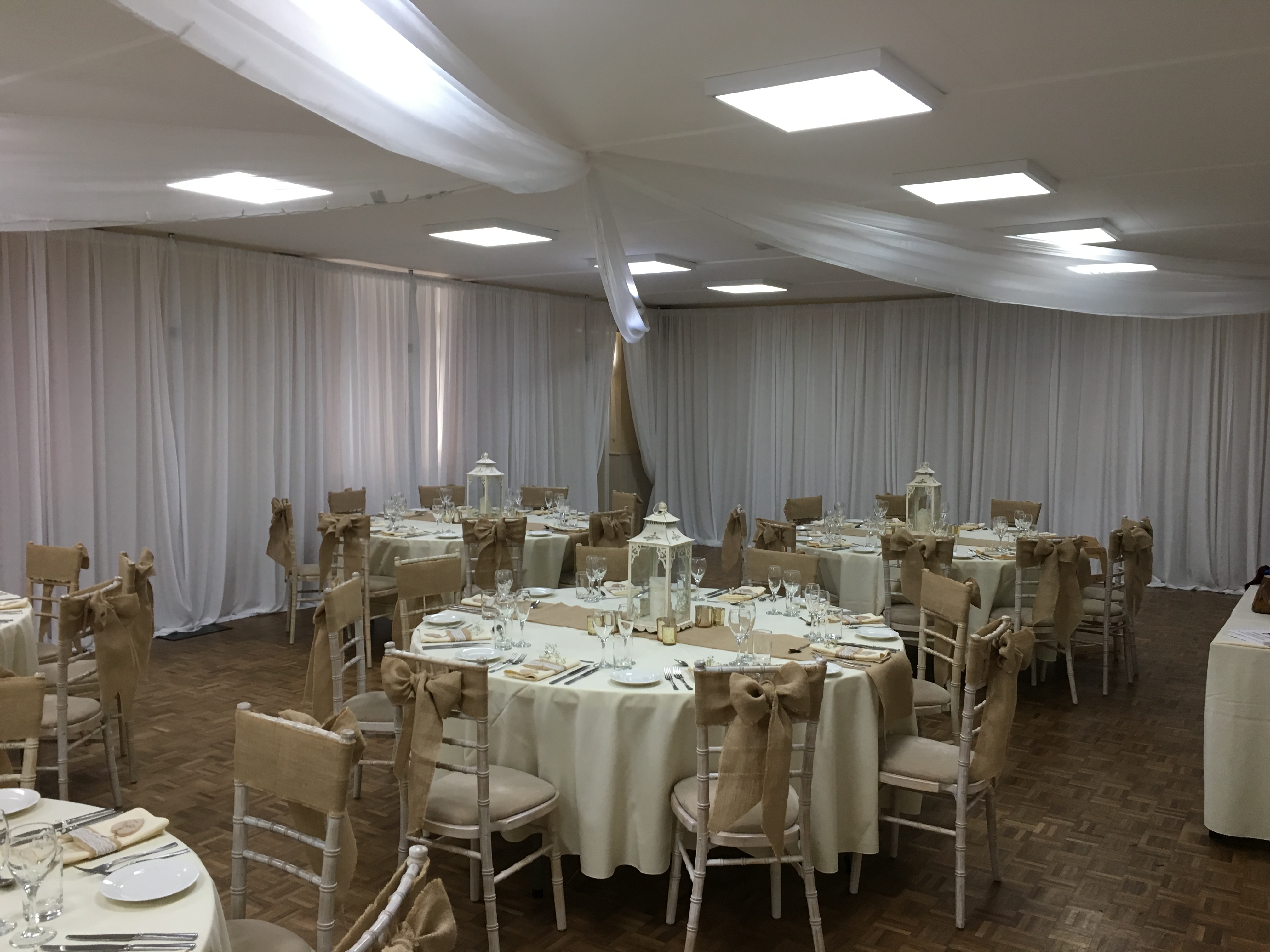 For bookings please follow this link https://hallbookingonline.com/bamburgh
Listed weekly/monthly BOOKINGS
MONDAY - Indoor Bowls 2pm – 4pm Indoor Bowls Matches 7pm - 9pm (not held every Monday) Parish Council meetings 2nd Monday on alternate months 7- 9.30pm
TUESDAY Coffee Stop - This is now run by Thomas's Tea Shop a voluntary run cafe, it is open every Tuesday from 10-12am. All profits are still given to Village Projects including the refurbishment of the Tennis Court.
At the start of 2017 the Coffee Stop was able to offer Bamburgh Croquet club £200. This covered the cost of sand blasting and painting the croquet hoops in preparation for the 2017 season and financing the winter maintenance of the lawn cutting equipment.
The history of this 'village get together' stems from the demise of a village post office when villagers met to purchase stamps and post parcels but also to pass the time of day. Some of us felt that the social side of the post office was a great miss and that we should have a place to drop in and chat, with a nice cuppa, on a regular basis so the idea of a BAMBURGH COFFEE STOP took fruit. Since moving to the Pavilion 3 years ago with the surplus money made at the Coffee Stops we have funded an all weather Table Tennis Table – the start of our now very popular weekly table tennis club – helped the Country Dance Group to buy a new special CD player, paid the total costs of the past two year's Village Christmas Parties. We are open to any other suggestions to make our community an interesting and great place to live. We would love more residents to come along and join us on the first Tuesday morning each month it is certainly ' the more the merrier'. We can now offer refreshments plus a game of table tennis for beginners and experienced players, table games for young and old should they wish to do more than just enjoy a good chat, friendship and a catch up on all village events and news. It is also a great place to advertise any village events or organisations.
Table Tennis group every Tuesday Morning 10-11.30am - beginners and experienced players welcome. Scottish Country Dancing 7-9pm pavilion
WEDNESDAY - Scottish Dancing 2 - 4pm Women's Institute 2nd Wednesday in every month except August 2pm
THURSDAY Indoor Bowls 7 - 9pm
FRIDAY Bird Club 2nd Friday every month 7.30pm
SATURDAY 2nd Saturday in September Bamburgh Village Show
BOOKING SECRETARY - Susan Gibson Telephone - 01668 214807
BAMBURGH PAVILION ASSOCIATION WEEKLY DRAW
To help with the maintenance and up keep of the building we have been running a Weekly Draw for a number of years. Annual membership is £12 and prizes are £10 per week plus quarterly prizes of 1@£30, 1 @£50, 3@£25, 1 @£20 and 9 @£15 and one of £200 at Christmas.
This year to celebrate the 30th anniversary we will, in July, be giving 1extra prize of £100 and 2 of £50. If you would like to join in this support of our Pavilion please telephone 07398 340 506 for an enrolment form. The Pavilion Association Management committee have recently overseen a complete refurbishment of the Pavilion. The Bamburgh Pavilion refurbishment started in 2013 with enlarging and renewing our kitchen and replacing all the electrical units. As well as a new cooker, fridge and microwave, we have a commercial dish-washer (cycle 2 minutes) and a water boiler. At the same time we took the opportunity to revamp the sports away changing room and toilets.
We were very grateful for a generous grant from the National Lottery Awards for All fund and from the Northumberland County Council's Community Chest. Later in 2013 we re-felted the whole roof and insulated the loft space. Once again we were fortunate to receive funding from various sources including the Rothley Trust, the AONB sustainable development fund, the Community Foundation Three Valley Grassroots Fund, the Sir James Knott Trust and also NCC 's Community Chest. However, the committee was always very conscious that the main building needed a complete overhaul and so we embarked on a massive grant funding operation in early 2014.
Our main source of funding would have to be once again the National Lottery, but as the request was much larger than in 2013, we would be approaching the Sports for All, Inspired Facilities fund. Unfortunately, we were unsuccessful with our first two applications. However, we soldiered on and after 12 months we were awarded a massive grant of almost £50000 with a third and final approach. With this grant, we were able to insulate all the external walls, fit new lighting, a new boiler and oil tank, modernise the home changing rooms, re-seal the floor and finally paint both inside and the outside of the Pavilion. Finally, we decided to replace all the table and chairs together with the curtains as a result of a wonderful legacy from the late Joan Knowles. We now have a wonderful facility of which the village can be justly proud.
Documents