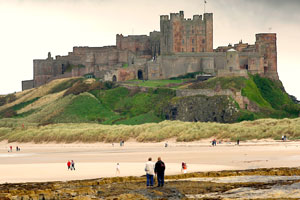 Open all year
The Castle is open to visitors all year round and hosts a variety of events.
FOR FULL DETAILS SEE https://www.bamburghcastle.com
Bamburgh Castle - Open daily from 10.00am to 5.00pm with last admission at 4.00pm
Cash-free site. Please ensure you have contactless payment methods with you when you visit.
General Admission
Adult admission £14.10
Child admission (5-16yrs) £6.95
Family Ticket (2 adults and up to 3 children aged (5-16yrs) £37.10
Little adventurers admission (0-4yrs) £0.00
Disabled admission £11.40 with free access for carers
Parking £4 (payable on arrival only)
Dog (grounds only) £0.00
PARKING IS NOT INCLUDED IN THE ADMISSION PRICE AND MUST BE PURCHASED SEPERATELY
Bamburgh Castle has a private car park which is accessible by following the parking signs and driving up the hill to the castle. The car park opposite the castle is owned by Northumberland County Council.
Historic Houses members must have their card scanned in our ticket office.
About the castle
The historic capital of the Anglo-Saxon kingdom of Northumbria. Bamburgh Castle is the king of Castles. Believed to have been occupied for over 10,000 years the castle has evolved from a wooden palisade to the formidable fortress it is today. The first castle in England to fall to canon fire as the Wars of Roses drew to a close.
It was also one of the world's first 'coastguard' stations and the site for the development and testing of the World's first 'lifeboat'. Under the ownership of the Crewe Trustees it housed a school, hospital and was the centre of its own mini 'welfare state'. Bought by the First Lord Armstrong in 1894 it is still owned by the Armstrong family who play an active part in its operation and maintenance.