Regular meeetings
We meet at 2pm on the second Wednesday in the month in Bamburgh Pavilion.
A number of Bamburgh W I members celebrating the 95th birthday of their institute and the installation of their 5th Bamburgh village seat.
In 1953 the institute presented a seat to the village to commemorate the Queen's Coronation, sixty years later the seat has been replaced to commemorate our Queen's Jubilee.
The original seat was made from the teak timbers off a ship the S.S. Atlantic by a firm of ship breakers, Hughes and Bolckow of Blyth.
This ship was possibly a vessel that sank in 1873 under the flag of the White Star Line, the same line as the Titanic. The W I has retained a plaque made from the seat structure and holding a registration plate of the brokers and a copper plaque celebration the Coronation as it is felt to be of historic interest.
For More Information you can Contact the Bamburgh WI Secretary on Tel: 01668 214429‬
Our President, Janet Wilkinson, welcomed everyone to our March meeting, including two visitors.
Federation events included Copperplate Calligraphy, trip to Beamish Musuem, a Quiz Night and a trip to Dundee. Our monthly lunch will be at Kelso and our final Winter Quiz will be in the Castle Inn, Bamburgh on 23rd March.
Janet welcomed our speaker for the afternoon, Alison Barratt, who gave a delightful talk on the life and times of Puffins. They are the most common of our seabirds but sadly their numbers have decreased over recent years. Alison's talk was illustrated with some beautiful photographs and there was plenty of questions after her talk.
We were then all ready for a welcome cup of tea, with plenty of nice things to eat, ending a very sociable afternoon.
PROGRAMME OF EVENTS 2019 – 2020
9th April at 2pm "Bygone Fashions" Bailiffgate Musuem
13th May Annual Meeting
If you are new to the area please come along to any of our meetings and you will be warmly welcomed. We are also delighted to see visitors at any of our meetings. We meet at 2pm in Bamburgh Pavilion.
Bamburgh Sand Castle/Sand Sculpture Competition 2017
The Bamburgh sand castle/sand sculpture competition 2017 was well subscribed and everyone had a great time taking part, the weather also stayed dry!!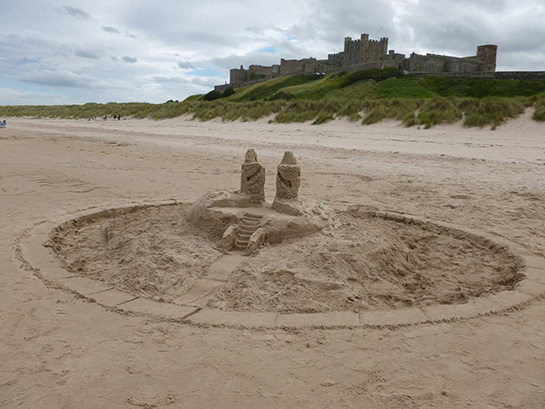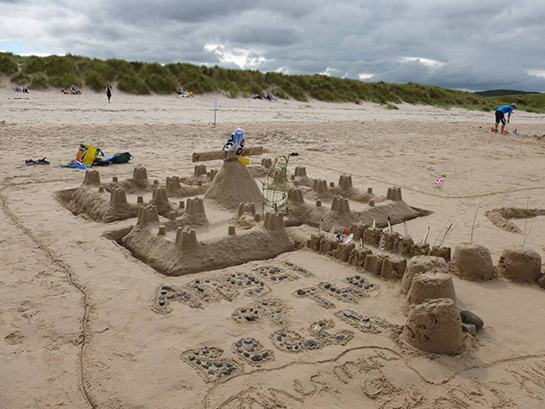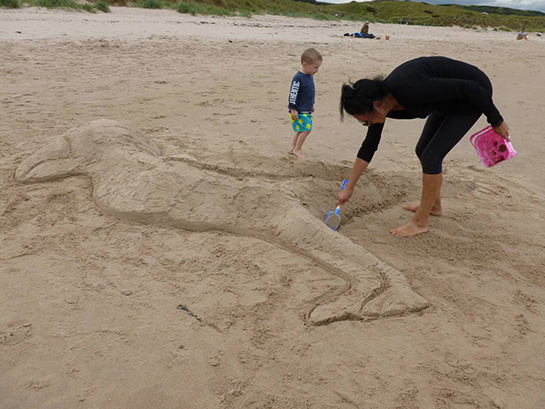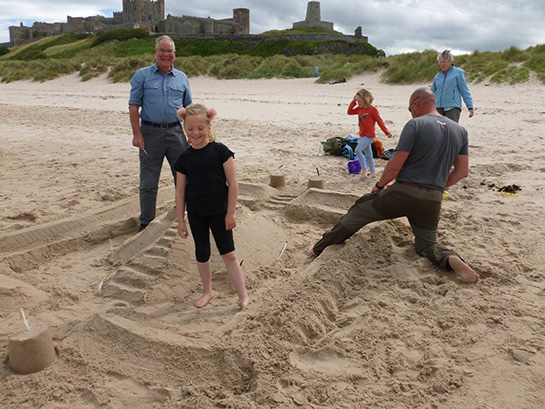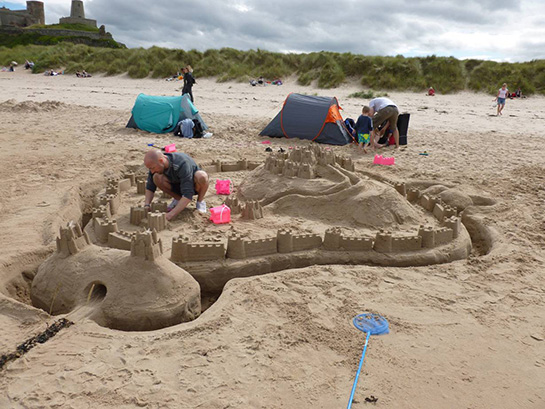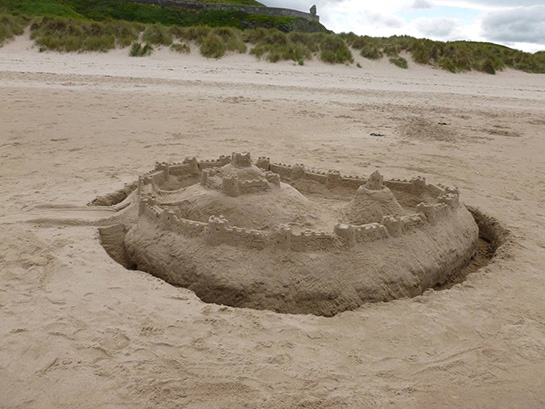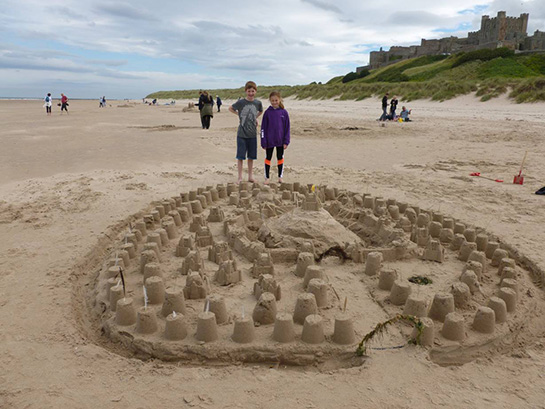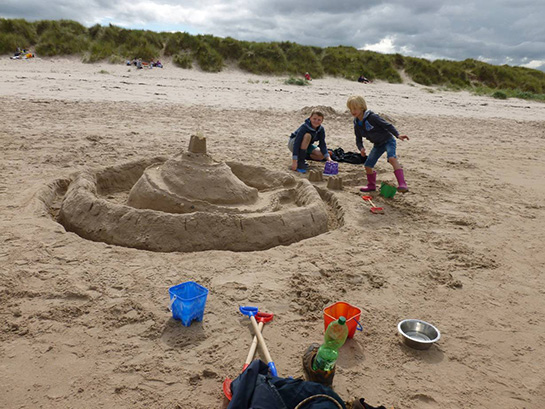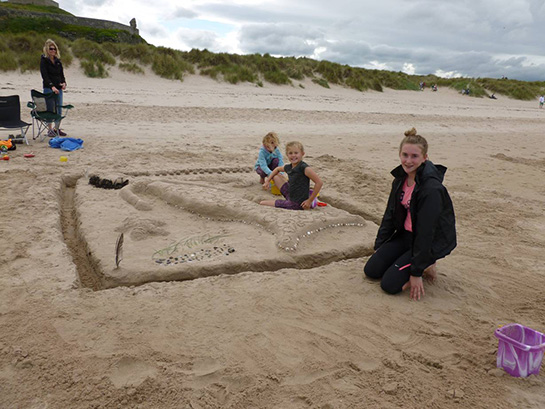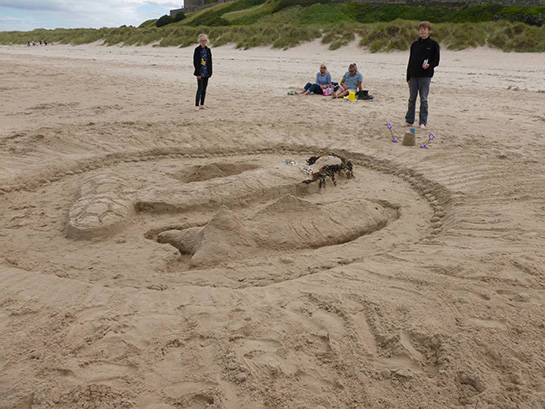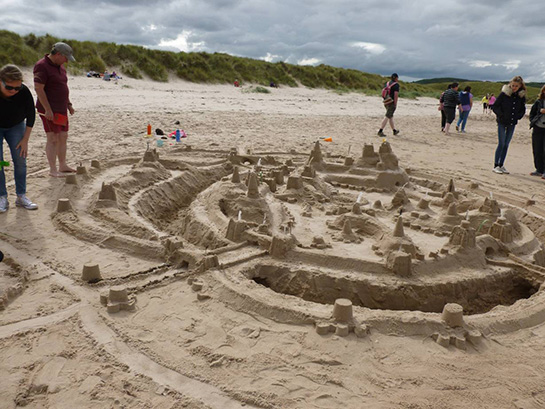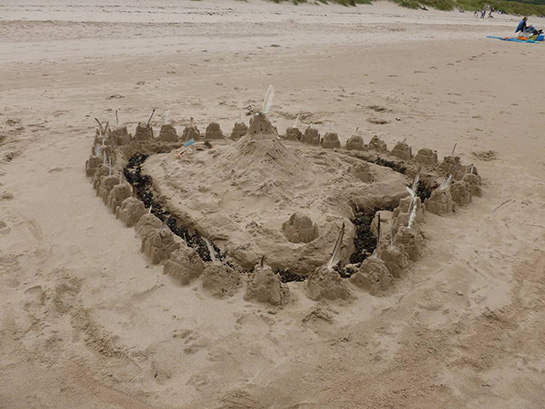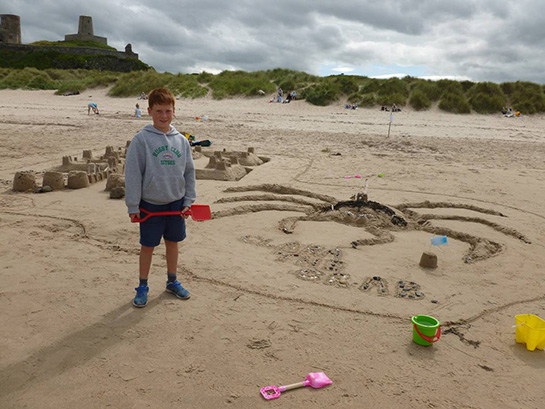 Bamburgh WI 2011 - Sand Sculpture Challenge
It was standing room only when members from many Northumberland institutes gathered to hear who had won the Sand sculpture trophy for this year's challenge 'THE HUMAN FORM'. Once again Hedgeley came out top pipping other institutes to the post by a very small margin as the judge, Derek Mallinson, said there were many sculptures he could have chosen in a less competitive field.
Once again Bamburgh was lucky with the weather and all the competitors enjoyed the cut and thrust of the competition with sand flying as huge mounds were dug and shaped into some incredible human forms. Institutes experiencing their first sand sculpture challenge thoroughly enjoyed the event and declared they were very much looking forward to entering again.
See videos of the event below.
Noreen Birnie, Betty Ashworth, Anthea Jackson and Joanna English working on their "Human Form" winning sculpture for Hedgeley WI
Beatrice Ede, Mary Leycock, and dual presidents Janet Gray and Josie Smeaton from Doddington WI
Eglingham WI with their sunbathing beauty, obviously on a naturist beach!
Marian Chivers, Di Bell, Diana Mills and Audrey Wiggins from Longhorsley WI. Was it praying to the sun God!
The Hedgeley winners once again, finishing off their amazing sculpture.