Regular meeetings
We meet at 2pm on the second Wednesday in the month in Bamburgh Pavilion.
A number of Bamburgh W I members celebrating the 95th birthday of their institute and the installation of their 5th Bamburgh village seat.
In 1953 the institute presented a seat to the village to commemorate the Queen's Coronation, sixty years later the seat has been replaced to commemorate our Queen's Jubilee.
The original seat was made from the teak timbers off a ship the S.S. Atlantic by a firm of ship breakers, Hughes and Bolckow of Blyth.
This ship was possibly a vessel that sank in 1873 under the flag of the White Star Line, the same line as the Titanic. The W I has retained a plaque made from the seat structure and holding a registration plate of the brokers and a copper plaque celebration the Coronation as it is felt to be of historic interest.
For More Information you can Contact the Bamburgh WI Secretary on Tel: 01668 214429‬
A big thank you to all members and visitors who ventured out on a very stormy evening to our June meeting.
Janet Wilkinson, our new President, opened the meeting, and we held a minute's silence in remembrance of Jean Sinton, the longest serving member of our WI and a great friend to us all. We are so glad when was able to join us for our 100th Birthday last year, which she thoroughly enjoyed.
Some of the forthcoming Federation events include a Quiz, trip to Norwich, ten pin bowling, car treasure hunt, golf challenge day, and a Food, Flowers and Water Event. We had also received an invitation to Embleton WI's 101st Birthday. The next lunch get together will be at the Black Bull at Etal on 17th July.
After a short business meeting, Sue Malloy gave a demonstration of Summer Supper Dishes. These included a soup, a chicken dish, a vegetarian dish and a cheese dish. They were all devoured with relish afterwards. Sue was thanked by Christine Hutchinson.
After the formalities were over, we celebrated our first evening meeting with wine and nibbles. It was a lovely relaxed evening which I am sure everyone enjoyed.
Our next meeting will be on Thursday 11th July at 6.30 when Carol Griffiths will give a talk on The Armstrongs. Everyone is very welcome. Please note for this month only, the meeting will be held on a Thursday and not Wednesday.
PROGRAMME OF EVENTS 2019 – 2020
11TH July at 6.30. "The Armstrongs" Carol Griffiths. Please note change of date for one month only
7th August Sandcastle/Sculpture Competition
11th September at 6.30 "Living with Arabs" Joan Ward
9th October at 2pm "Vive La Difference" Stuart Walton
13th November at 2pm "Our Lives" Paul and Linda Coleman
11th December A Christmas Delight
8th January "Games Afternoon" Members Meeting
12th February at 2pm RNLI Ian Clayton
11th March at 2pm "Future Sea Levels" Chloe Waldron
9th April at 2pm "Bygone Fashions" Bailiffgate Musuem
13th May Annual Meeting
If you are new to the area please come along to any of our meetings and you will be warmly welcomed. We are also delighted to see visitors at any of our meetings. We meet at 2pm in Bamburgh Pavilion.
Bamburgh Sand Castle/Sand Sculpture Competition 2017
The Bamburgh sand castle/sand sculpture competition 2017 was well subscribed and everyone had a great time taking part, the weather also stayed dry!!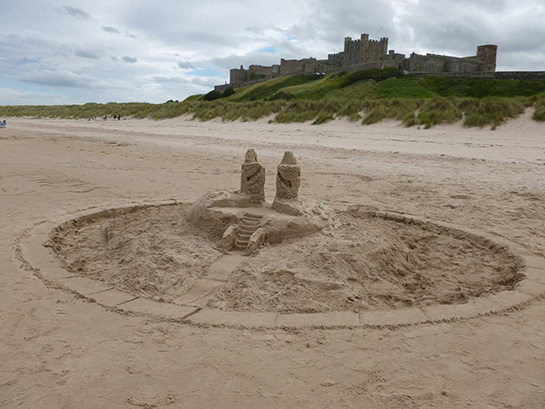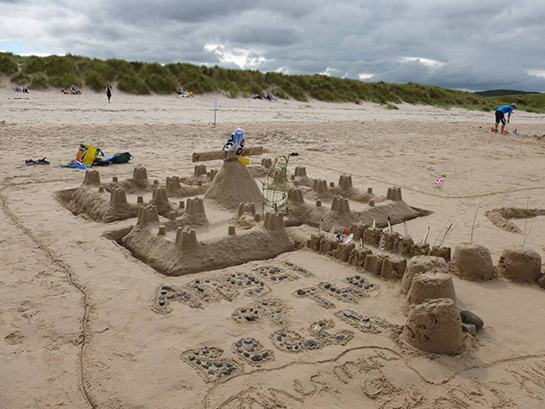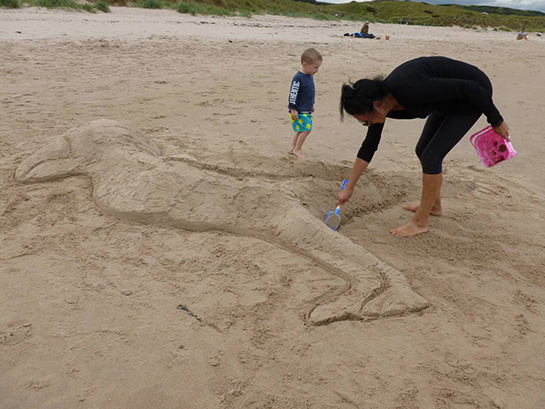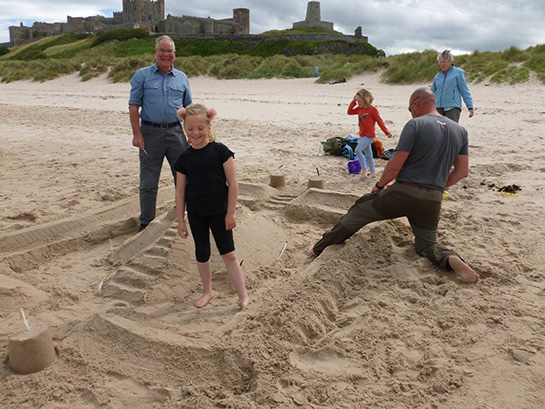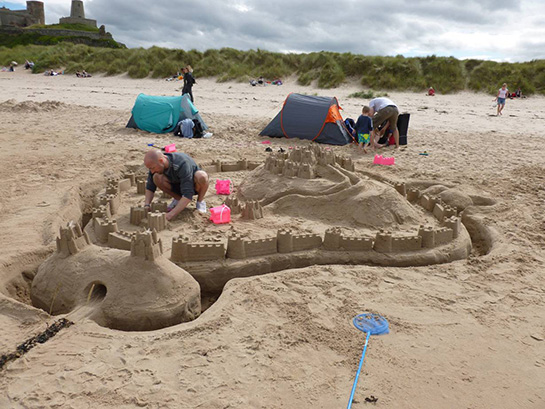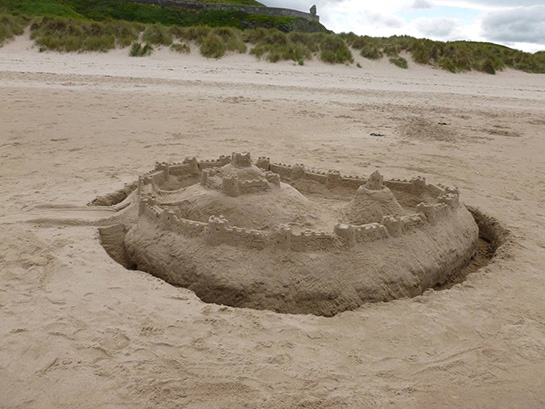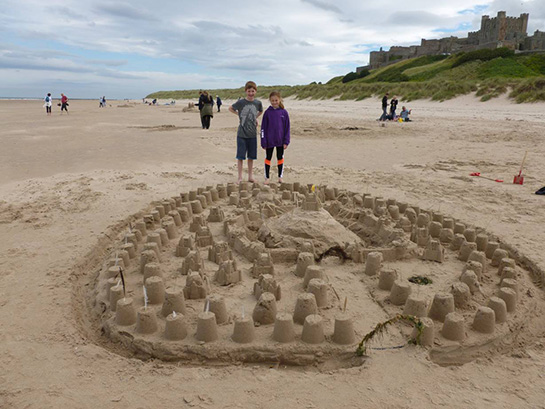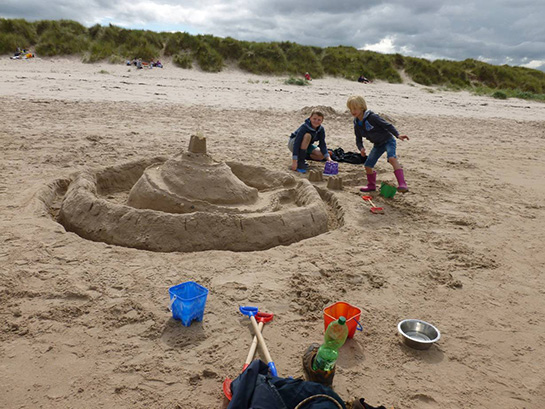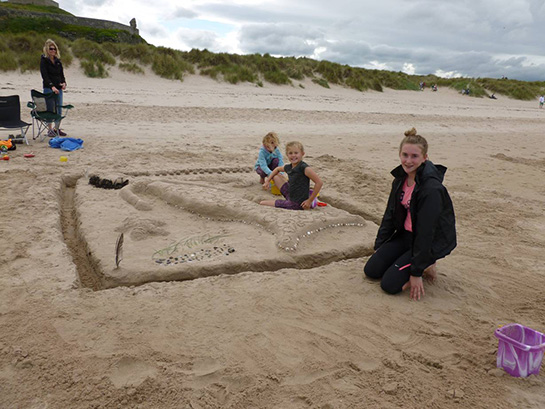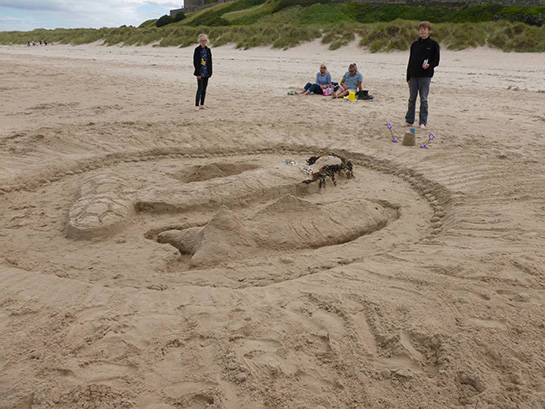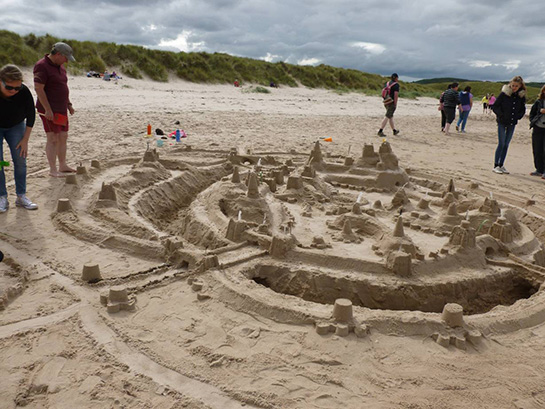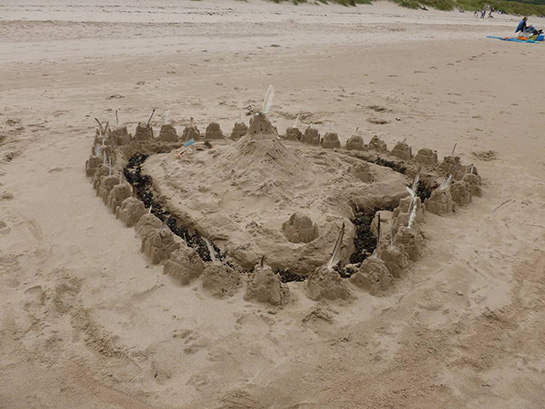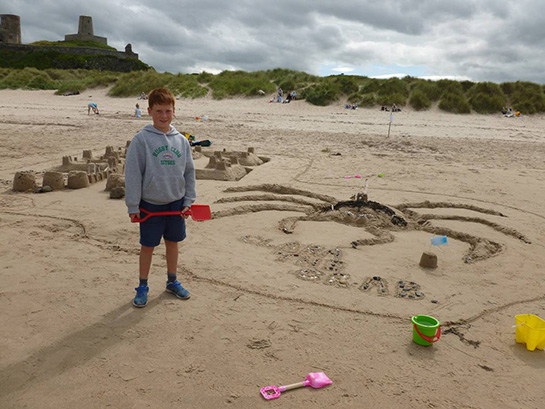 Bamburgh WI 2011 - Sand Sculpture Challenge
It was standing room only when members from many Northumberland institutes gathered to hear who had won the Sand sculpture trophy for this year's challenge 'THE HUMAN FORM'. Once again Hedgeley came out top pipping other institutes to the post by a very small margin as the judge, Derek Mallinson, said there were many sculptures he could have chosen in a less competitive field.
Once again Bamburgh was lucky with the weather and all the competitors enjoyed the cut and thrust of the competition with sand flying as huge mounds were dug and shaped into some incredible human forms. Institutes experiencing their first sand sculpture challenge thoroughly enjoyed the event and declared they were very much looking forward to entering again.
See videos of the event below.
Noreen Birnie, Betty Ashworth, Anthea Jackson and Joanna English working on their "Human Form" winning sculpture for Hedgeley WI
Beatrice Ede, Mary Leycock, and dual presidents Janet Gray and Josie Smeaton from Doddington WI
Eglingham WI with their sunbathing beauty, obviously on a naturist beach!
Marian Chivers, Di Bell, Diana Mills and Audrey Wiggins from Longhorsley WI. Was it praying to the sun God!
The Hedgeley winners once again, finishing off their amazing sculpture.