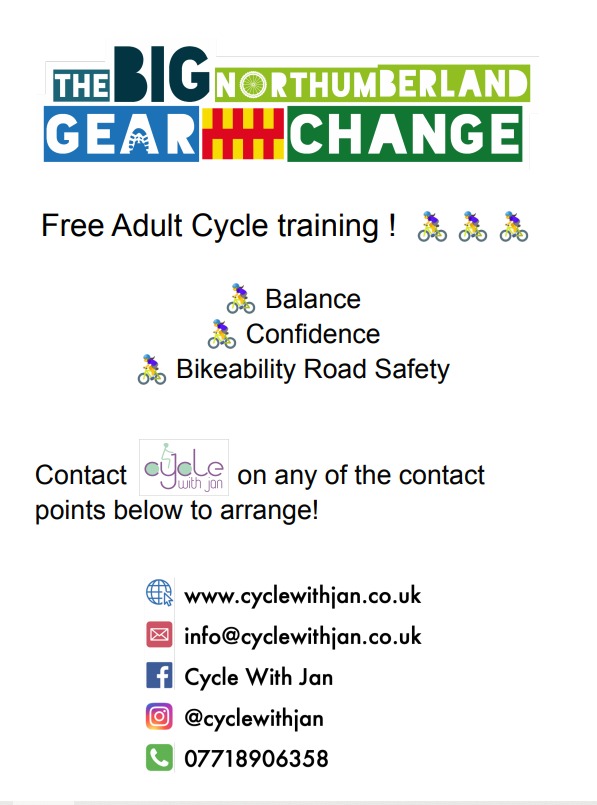 As cycling is good for the environment as is carbon neutral and is good for health, both the government and Northumberland County Council are encouraging and supporting more people to cycle - hence this project supporting people to cycle more!
Funded Northumberland County Council, I am offering free cycle training skills to support adults to get their bikes back on the road by approaching Northumberland businesses, councils and organisations. The training includes:
Balance
Confidence training
Bikeability and road safety
Dr Bike free safety checks and minor repairs to help people get back on the road.
All those interested will need to complete an individual application form and will then be offered the training; all training areas are organised risk assessed in advance and the training professional delivered by qualified Bikeability instructors.
For some inspiring stories of the benefits of cycling and cycling to work, check out the link below, particularly that of the 'Commuter docs' under the 'Meet our movers' on the link below. You can also see a short film of my cycle training 'Jan and her cyclists' which you have a preview of CyclewithJan cycle training see and I hope will inspire people to cycle.
https://www.northumberlandgearchange.co.uk/
Please contact me on the mobile number below, to see how we can progress this in your area. I stress that this is free on a first come first served basis and reflects well in supporting adults in Northumberland communities to keep fit and healthy through cycling and benefits the environment by reducing carbon emissions.
Since the COVID pandemic there has been a huge increase in cycling and riding to work - through this project we have a golden opportunity to further continue this momentum and help people to stay safe!
I look forward to hearing from you,
With best wishes,
Jan
Jan Chisholm


Life is like riding a bicycle, to keep your balance you must keep moving forward!