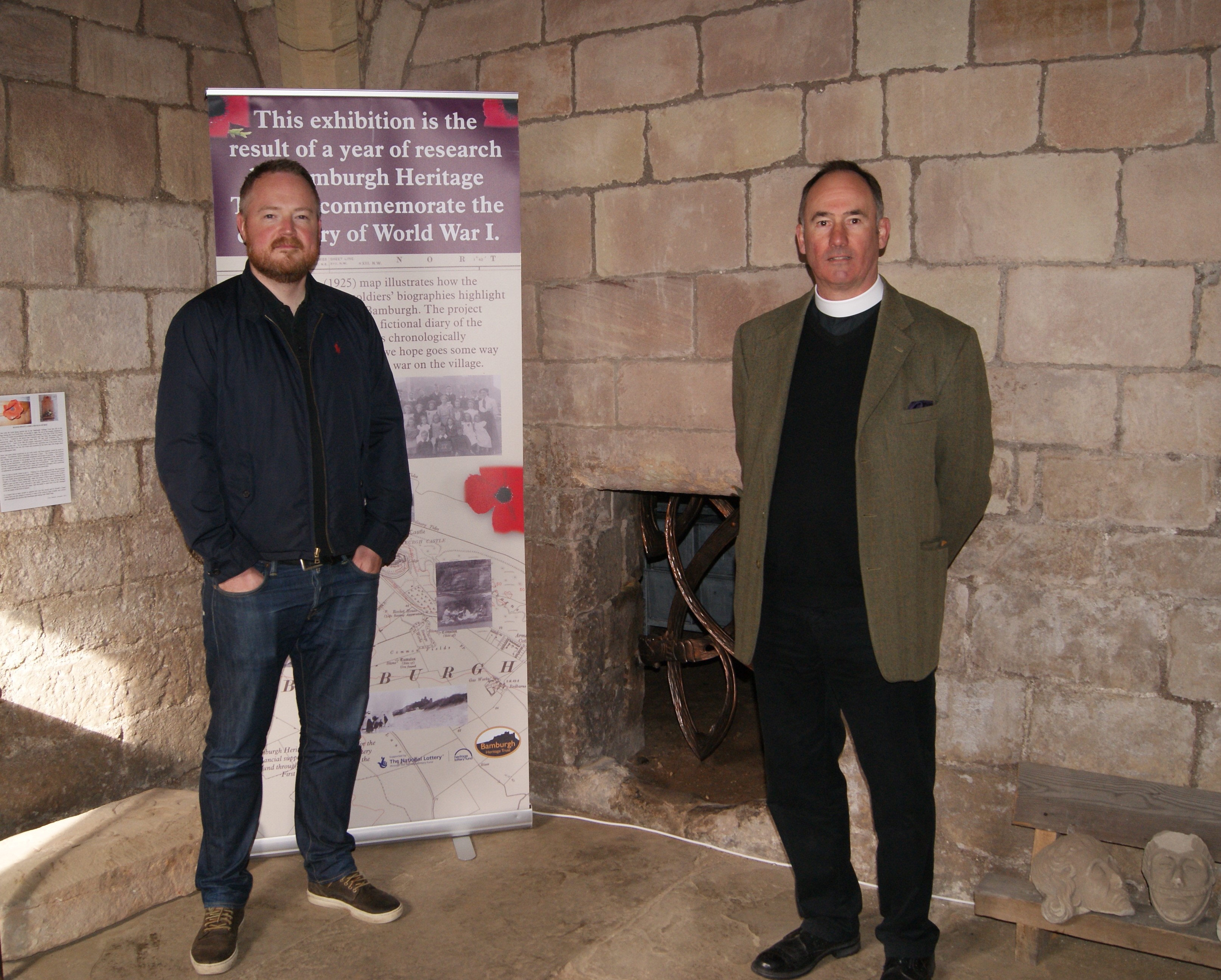 The photograph is of: Sam Morton (left)- the chair of Bamburgh Heritage Trust and the Rev.Brian Hurst (right).
Bamburgh Heritage Trust are delighted to announce that their recent submission to
Heritage Lottery Fund (HLF) has been successful and they have been awarded a
development grant to get their 'Accessing Aidan' project ready to deliver.
Bamburgh Heritage Trust's project, called Accessing Aidan, aims to develop the crypt of
St. Aidan's Church, Bamburgh into a beautiful community and interpretation space
where Bamburgh Heritage Trust can tell the unique story of Bamburgh.
Thanks to money raised by National Lottery players, the Trust has been awarded initial
support* for a £399,300 HLF grant and development funding of £43,800 to progress
the plans and apply for the full grant at a later date.
The central message will concentrate on the Bowl Hole Ossuary, created last year in the
small second crypt by BHT. The crypt is the last resting place of the people who live in
Bamburgh 1,400 years ago, when Bamburgh was the cosmopolitan centre of the Golden
Age of Northumbria. Just like today, people lived and worked in the spectacular coastal
village or travelled from far and wide to visit and enjoy its treasures.
Over the next eight months the Trust will work to develop their vision into a deliverable
project. It is the ambition of the Trust to use projection and interactive technology to tell
the fabulous story of Bamburgh as well as create a 21st century digital ossuary that will
make the wealth of osteological data recovered from the early Anglo-Saxon Bowl Hole
cemetery available to the public for the first time.
Sam Morton, chair of Bamburgh Heritage Trust said: "We are thrilled with our National
Lottery award, this will enable us to showcase Bamburgh's fantastic heritage in an
innovative and exciting way. We will be working in partnership with Bamburgh Research
Project, Durham University, Bamburgh Castle and St. Aidan's Church to provide amazing
insight into the lives of our Anglo-Saxon ancestors."
The Reverend Canon Brian Hurst added: "It is a wonderful opportunity to reopen the
beautiful 12th century crypt to the public once again. Not only will we celebrate St. Aidan
and his Anglo-Saxon brothers and sisters but also tell the remarkable story of the
Forsters whose memorials are in the crypt."
Ivor Crowther, Head of HLF North East, said: "Thanks to money raised by National
Lottery players, we're pleased to support plans to transform access to Bamburgh's Anglo
Saxon heritage and story as the heart of the Golden Age of Northumbria. With crucial
support from volunteers and partnerships, the project will use 21 st century techniques to
reveal the secrets of a centuries old story for even more people to enjoy. We look forward to seeing plans develop.